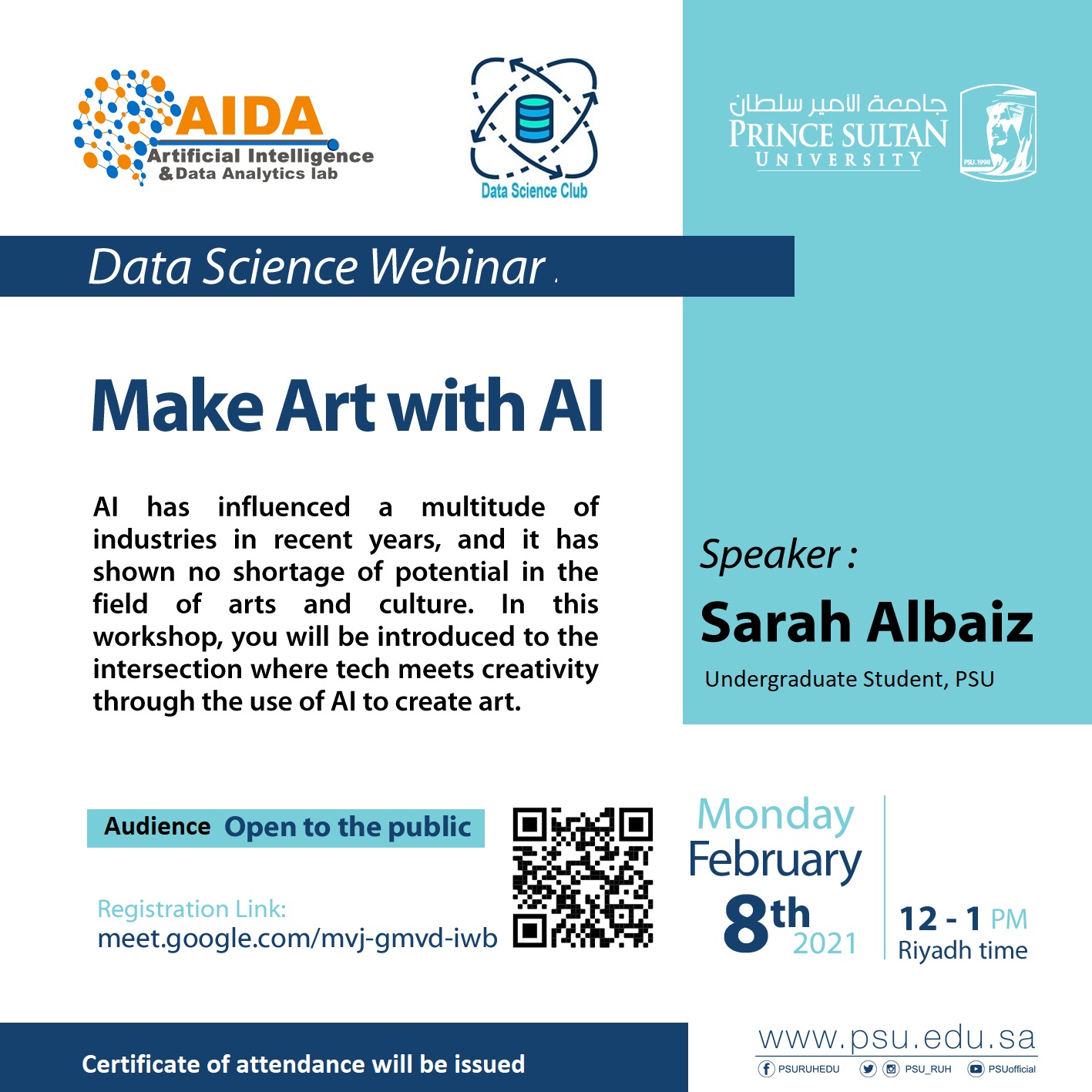 Make Art with Artificial Intelligence
Speaker: Sarah Albaiz, CCIS Student
Feb 8th, 2021 (Monday)
12:00 - 1:00 PM
Public, Online
Link: https://meet.google.com/mvj-gmvd-iwb
𝗦𝗺𝗮𝗿𝘁 𝗣𝗿𝗼𝗱𝘂𝗰𝘁𝘀 𝘂𝘀𝗶𝗻𝗴 𝗠𝘂𝗹𝘁𝗶-𝗠𝗼𝗱𝗮𝗹 𝗗𝗮𝘁𝗮 𝗦𝘁𝗿𝗲𝗮𝗺𝘀
𝐆𝐮𝐞𝐬𝐭 𝐒𝐩𝐞𝐚𝐤𝐞𝐫: Professor. Dr. Muhammad Usman Ghani Khan
University of Engineering and Technology (UET) Lahore, Pakistan
𝙏𝙝𝙞𝙨 𝙩𝙖𝙡𝙠 𝙬𝙞𝙡𝙡 𝙥𝙧𝙚𝙨𝙚𝙣𝙩 𝙨𝙤𝙢𝙚 𝙞𝙣𝙩𝙚𝙧𝙚𝙨𝙩𝙞𝙣𝙜 𝙖𝙥𝙥𝙡𝙞𝙘𝙖𝙩𝙞𝙤𝙣𝙨 𝙤𝙛 𝙘𝙤𝙢𝙥𝙪𝙩𝙚𝙧
𝙫𝙞𝙨𝙞𝙤𝙣, 𝙩𝙚𝙭𝙩 𝙥𝙧𝙤𝙘𝙚𝙨𝙨𝙞𝙣𝙜, 𝙗𝙞𝙤𝙞𝙣𝙛𝙤𝙧𝙢𝙖𝙩𝙞𝙘𝙨, 𝙖𝙣𝙙 𝘼𝙪𝙜𝙢𝙚𝙣𝙩𝙚𝙙 &𝙖𝙢𝙥; 𝙑𝙞𝙧𝙩𝙪𝙖𝙡 𝙍𝙚𝙖𝙡𝙞𝙩𝙮. 𝙎𝙥𝙚𝙘𝙞𝙖𝙡 𝙛𝙤𝙘𝙪𝙨 𝙬𝙞𝙡𝙡 𝙗𝙚 𝙤𝙣 𝙥𝙧𝙤𝙫𝙞𝙙𝙞𝙣𝙜 𝙞𝙣𝙨𝙞𝙜𝙝𝙩𝙨 𝙖𝙣𝙙 𝙬𝙤𝙧𝙠𝙞𝙣𝙜 𝙙𝙚𝙢𝙤𝙨 𝙤𝙛 𝙩𝙝𝙚 𝙙𝙚𝙫𝙚𝙡𝙤𝙥𝙚𝙙 𝙖𝙥𝙥𝙡𝙞𝙘𝙖𝙩𝙞𝙤𝙣𝙨 𝙖𝙩 𝙉𝙖𝙩𝙞𝙤𝙣𝙖𝙡 𝘾𝙚𝙣𝙩𝙚𝙧 𝙤𝙛 𝘼𝙧𝙩𝙞𝙛𝙞𝙘𝙞𝙖𝙡 𝙄𝙣𝙩𝙚𝙡𝙡𝙞𝙜𝙚𝙣𝙘𝙚, 𝙝𝙤𝙪𝙨𝙚𝙙 𝙖𝙩 𝙐𝙀𝙏 𝙇𝙖𝙝𝙤𝙧𝙚.
Tuesday, December 7th, 2021
Meeting Link: https:// https://lnkd.in/dwP9VcU8
Public lectures at AIDA Lab are free and open to all.
A certificate of attendance will be awarded to the attendees.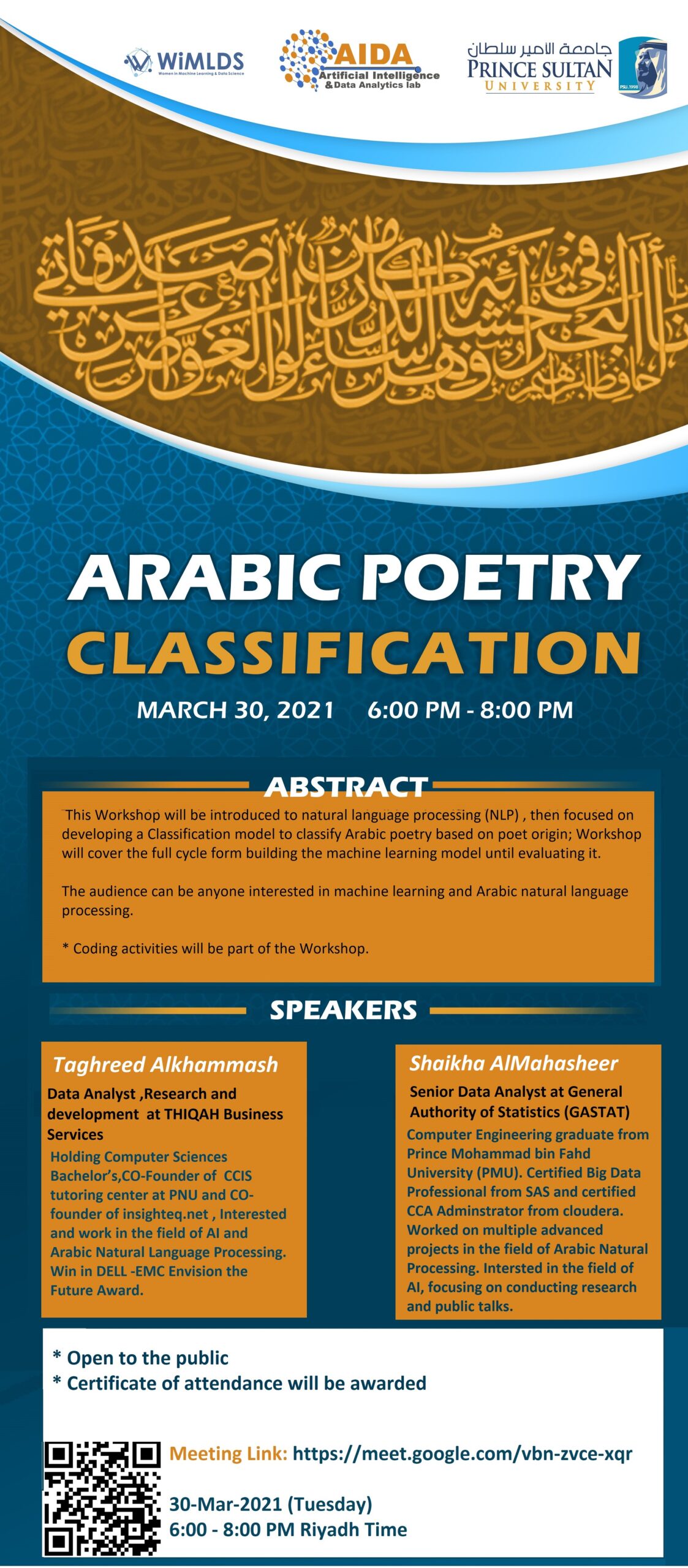 Arabic Poetry Classification
مقدمة في علم البيانات للمبتدئين Introduction to Data Science
يهدف اللقاء إلى إثراء وتوعية المجتمع والطلاب في مجال علم البيانات وذلك من خلال توضيح الفرق بين عالم البيانات، مهندس البيانات، محلل البيانات وعالم تعلم الآلة. بالإضافة إلى الفرق بين الذكاء الاصطناعي وتعلم الآلة والتعلم العميق.
اللقاء سيناقش أنواع البيانات والفرق بين مصادر البيانات وتطبيقاتها العملية المختلفة، بالإضافة إلى المهارات المطلوبة لعالم البيانات وأهم الشهادات الخاصة بعالم البيانات.